Computational Model Library
About the CoMSES Model Library more info
---
CoMSES Net maintains cyberinfrastructure to foster FAIR data principles for access to and (re)use of computational models. Model authors can publish their model code in the Computational Model Library with documentation, metadata, and data dependencies and support these FAIR data principles as well as best practices for software citation. Model authors can also request that their model code be peer reviewed to receive a DOI. All users of models published in the library must cite model authors when they use and benefit from their code.
Please check out our model archive tutorial or contact us if you have any questions or concerns about archiving your model.
CoMSES Net also maintains a curated database of over 7500 publications of agent-based and individual based models with additional metadata on availability of code and bibliometric information on the landscape of ABM/IBM publications that we welcome you to explore.
A model for simulating the evolution of individual's preferences, incliding adaptive agents "falsifying" -as public opinions- their own preferences. It was builded to describe, explore, experiment and understand how simple heuristics can modulate global opinion dynamics. So far two mechanisms are implemented: a version of Festiguer's reduction of cognitive disonance, and a version of Goffman's impression management. In certain social contexts -minority, social rank presure- some models agents can "fake" its public opinion while keeping internally the oposite preference, but after a number of rounds following this falsifying behaviour pattern, a coherence principle can change the real or internal preferences close to that expressed in public.
The model formalizes a situation where agents embedded in different types of networks (random, small world and scale free networks) interact with their neighbors and express an opinion that is the result of different mechanisms: a coherence mechanism, in which agents try to stick to their previously expressed opinions; an assessment mechanism, in which agents consider available external information on the topic; and a social influence mechanism, in which agents tend to approach their neighbor's opinions.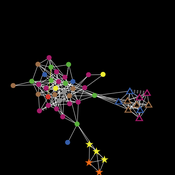 Bruce Edmonds
| Published Sat Jul 9 10:17:19 2016 | Last modified Sat Jul 9 15:34:13 2016
This is a model of coherency based belief within a dynamic network of individuals. Described in an invited talk on workshop on Coherence, Berlin, 9th July 2016.
This website uses cookies and Google Analytics to help us track user engagement and improve our site. If you'd like to know more information about what data we collect and why, please see
our data privacy policy
. If you continue to use this site, you consent to our use of cookies.