PhD student in Economic History, Universidade de São Paulo.
Research Interests
My research interests are the history of Gaelic Ireland (13th and 14th centuries), historical game studies, and the use of formal modeling techniques in historical research.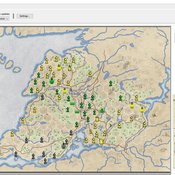 ThomondSim is a simulation of the political and economic landscape of the medieval kingdom of Thomond, southwestern Ireland, between 1276 and 1318.
Its goal is to analyze how deteriorating environmental and economic conditions caused by the Little Ice Age (LIA), the Great European Famine of 1315-1322, and wars between England and Scotland affected the outcomes of a local war involving Gaelic and English aristocratic lineages.
This ABM attempts to model both the effects of devastation on the human environment and the modus operandi of late-medieval war and diplomacy.
The model is the digital counterpart of the science discovery board game The Triumphs of Turlough. Its procedures closely correspond to the game's mechanics, to the point that ToT can be considered an interactive, analog version of this ABM.