No bio entered.
Research Interests
I'm interested in inter-individual interactions in general, demo-genetics and group behaviour. I'm currently working on locusts. Visit my website for more info.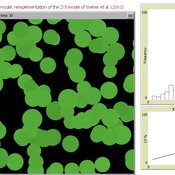 Cyril Piou
| Published Wednesday, July 23, 2014 | Last modified Thursday, December 11, 2014
This model reimplement Weiner et al. 2001 Zone Of Influence model to simulate plant growth under competition. The reimplementation in Netlogo and the ODD description in the "info" tab try to be as consistent as possible with the original paper.