Andrew Bell (Ph.D. 2010, Michigan) was a Research Fellow in the Environment and Production Technology Division at the International Food Policy Research Institute (IFPRI) in Washington, DC. His current research portfolio focuses on the use of field instruments – such as discrete choice experiments, framed field experiments, randomized control trials – to inform behavior in agent-based models of coupled human-natural systems. Prior to this post, Andrew was a post-doctoral research fellow at The Earth Institute at Columbia University, where he focused on developing applications for paleo-climate histories.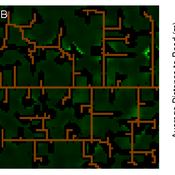 A logging agent builds roads based on the location of high-value hotspots, and cuts trees based on road access. A forest monitor sanctions the logger on observed infractions, reshaping the pattern of road development.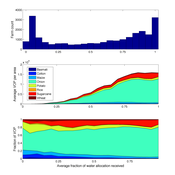 The purpose of this model is to examine equity and efficiency in crop production across a system of irrigated farms, as a function of maintenance costs, assessed water fees, and the capacity of farmers to trade water rights among themselves.