Computational Model Library
About the CoMSES Model Library more info
---
CoMSES Net maintains cyberinfrastructure to foster FAIR data principles for access to and (re)use of computational models. Model authors can publish their model code in the Computational Model Library with documentation, metadata, and data dependencies and support these FAIR data principles as well as best practices for software citation. Model authors can also request that their model code be peer reviewed to receive a DOI. All users of models published in the library must cite model authors when they use and benefit from their code.
Please check out our model archive tutorial or contact us if you have any questions or concerns about archiving your model.
CoMSES Net also maintains a curated database of over 7500 publications of agent-based and individual based models with additional metadata on availability of code and bibliometric information on the landscape of ABM/IBM publications that we welcome you to explore.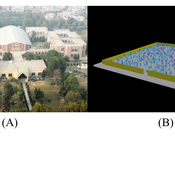 We use an agent-based 3D model to reveal the behavioral dynamics of real-world cases. The target of the simulation is the Peshawar massacre. The previous 2-D model has three main problems which can be solved by our 3-D model. Under the key action rules, our model matches the real target case exactly. Based on the optimal solution, we precisely match the results of the real cases, such as the number of deaths and injuries. We also explore the importance of adding height (constructed as a 3D model) to the model.
We propose an agent-based model leading to a decrease or an increase of hostility between agents after a major cultural threat such as a terrorist attack. The model is inspired from the Terror Management Theory and the Social Judgement Theory. An agent has a cultural identity defined through its acceptance segments about each of three different cultural worldviews (i.e., Atheist, Muslim, Christian) of the considered society. An agent's acceptance segment is composed from its acceptable positions toward a cultural worldview, including its most acceptable position. An agent forms an attitude about another agent depending on the similarity between their cultural identities. When a terrorist attack is perpetrated in the name of an extreme cultural identity, the negatively perceived agents from this extreme cultural identity point of view tend to decrease the width of their acceptance segments in order to differentiate themselves more from the threatening cultural identity
This website uses cookies and Google Analytics to help us track user engagement and improve our site. If you'd like to know more information about what data we collect and why, please see
our data privacy policy
. If you continue to use this site, you consent to our use of cookies.