Computational Model Library
About the CoMSES Model Library more info
---
Our mission is to help computational modelers at all levels engage in the establishment and adoption of community standards and good practices for developing and sharing computational models. Model authors can freely publish their model source code in the Computational Model Library alongside narrative documentation, open science metadata, and other emerging norms that facilitate software citation, archival, interoperability, and reuse. Model authors can also request that their model code be peer reviewed to receive a DOI.
All users of models published in the library must cite model authors when they use and benefit from their code.
Please check out our model archive tutorial or contact us if you have any questions or concerns about publishing your model(s) in the Computational Model Library.
We also maintain a curated database of over 7500 publications of agent-based and individual based models with additional detailed metadata on availability of code and bibliometric information on the landscape of ABM/IBM publications that we welcome you to explore.
Displaying 2 of 2 results social contexts clear
A model for simulating the evolution of individual's preferences, incliding adaptive agents "falsifying" -as public opinions- their own preferences. It was builded to describe, explore, experiment and understand how simple heuristics can modulate global opinion dynamics. So far two mechanisms are implemented: a version of Festiguer's reduction of cognitive disonance, and a version of Goffman's impression management. In certain social contexts -minority, social rank presure- some models agents can "fake" its public opinion while keeping internally the oposite preference, but after a number of rounds following this falsifying behaviour pattern, a coherence principle can change the real or internal preferences close to that expressed in public.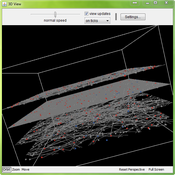 Davide Nunes
| Published Thursday, August 02, 2012 | Last modified Saturday, April 27, 2013
In the context switching model, a society of agents embedded in multiple social relations, engages in a simple abstract game: the consensus game. Each agent has to choose towards one of two possible choices which are basically arbitrary. The objective of the game is to reach a global consensus, but the particular choice that gets collectively selected is irrelevant.
This website uses cookies and Google Analytics to help us track user engagement and improve our site. If you'd like to know more information about what data we collect and why, please see
our data privacy policy
. If you continue to use this site, you consent to our use of cookies.