Computational Model Library
About the CoMSES Model Library more info
---
CoMSES Net maintains cyberinfrastructure to foster FAIR data principles for access to and (re)use of computational models. Model authors can publish their model code in the Computational Model Library with documentation, metadata, and data dependencies and support these FAIR data principles as well as best practices for software citation. Model authors can also request that their model code be peer reviewed to receive a DOI. All users of models published in the library must cite model authors when they use and benefit from their code.
Please check out our model archive tutorial or contact us if you have any questions or concerns about archiving your model.
CoMSES Net also maintains a curated database of over 7500 publications of agent-based and individual based models with additional metadata on availability of code and bibliometric information on the landscape of ABM/IBM publications that we welcome you to explore.
Steve Peck
| Published Sun Dec 6 19:37:54 2020 | Last modified Fri Apr 16 22:17:46 2021
Ecosystems are among the most complex structures studied. They comprise elements that seem both stable and contingent. The stability of these systems depends on interactions among their evolutionary history, including the accidents of organisms moving through the landscape and microhabitats of the earth, and the biotic and abiotic conditions in which they occur. When ecosystems are stable, how is that achieved? Here we look at ecosystem stability through a computer simulation model that suggests that it may depend on what constrains the system and how those constraints are structured. Specifically, if the constraints found in an ecological community form a closed loop, that allows particular kinds of feedback may give structure to the ecosystem processes for a period of time. In this simulation model, we look at how evolutionary forces act in such a way these closed constraint loops may form. This may explain some kinds of ecosystem stability. This work will also be valuable to ecological theorists in understanding general ideas of stability in such systems.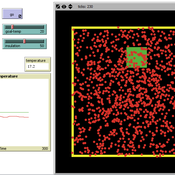 A thermostat is a device that allows to have the temperature in a room near a desire value.
This website uses cookies and Google Analytics to help us track user engagement and improve our site. If you'd like to know more information about what data we collect and why, please see
our data privacy policy
. If you continue to use this site, you consent to our use of cookies.