Computational Model Library
FOUR SEASONS (version 1.0.0)
Each tick is one day and each season is 91 days. This can be changed in the script so that e.g. months are monitored instead.
The patches are colored according to favored areas each season. When run (Go) the butterflies leave the chrysalis in spring and summer. The butterflies turn into caterpillars at autumn, and pupate in a chrysalis in the winter.
The model is an example of how turtles can change the behavior and appearance depending on the season.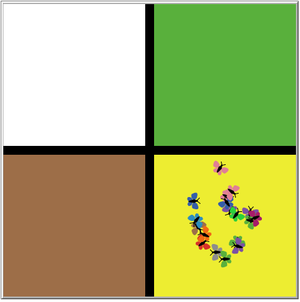 | Version | Submitter | First published | Last modified | Status |
| --- | --- | --- | --- | --- |
| 1.0.0 | Lars Spång | Tue Mar 28 10:39:00 2017 | Tue Mar 28 10:39:00 2017 | Published |
---
Discussion
This website uses cookies and Google Analytics to help us track user engagement and improve our site. If you'd like to know more information about what data we collect and why, please see
our data privacy policy
. If you continue to use this site, you consent to our use of cookies.