I am part of the Participatory Systems initiative at the Delft University of Technology. I'm currently working on my PhD project, which concerns the role of local information and stories to empower and engage citizens in their neighbourhoods. I study and use playful and creative approaches to enable the participation of children, youngsters, and adults in my research. My research interests are in research through design, citizen engagement, empowerment, and social design.
Research Interests
I research the role of local information and stories to increase citizen engagement in urban environments. Through workshops with citizens (children, youngsters and adults), I identify which approaches are suitable to increase engagement through local stories and storytelling. My thesis works towards a toolkit and framework which showcases possible neighbourhoud interventions, presents design guidelines, and discusses trade-offs. The research builds on workshops and projects done in The Hague and Rotterdam.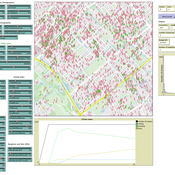 An agent-based model that simulates urban neighbourhoods. The model has been designed to simulate perceived livability and safety (PLS) of citizens. The score attached to perceived livability and safety, PLS, is the main output of the model and is the average of each individual's PLS. These PLS scores, in turn, are specific to each citizen and highly dependent on their individual experiences. PLS is impacted by several different social factors: interactions with fellow citizens, police officers, and community workers; visiting or starting a neighbourhood initiative; experiencing a burglary; seeing a youth gang; or hearing from friends (of friends) about these events. On top of this, the model allows to set various types of social networks which also influence the PLS.