I am Colombian with passion for social impact. I believe that change starts at the individual, community, local and then global level. I have set my goal in making a better experience to whatever challenges I encounter and monetary systems and governance models is what concerns me at the time.
In my path to understanding and reflecting about these issues I have found my way through "Reflexive Modeling". Models are just limited abstractions of reality and is part of our job as researchers to dig in the stories behind our models and learn to engage in a dialogue between both worlds.
Research Interests
Technology empowers us to act locally, autonomously and in decentralized ways and my research objective is to, in a global context, find ways to govern, communicate and scale the impact of alternative monetary models. This with a special focus on achieving a more inclusive and community owned financial system.
As a Ph.D. fellow for the Agenda 2030 Graduate School, I expect to identify challenges and conflicting elements in the sustainability agenda, contribute with new perspectives, and create solutions for the challenges ahead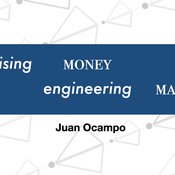 Juan Ocampo
| Published Thu Mar 4 18:48:40 2021 | Last modified Mon Mar 15 07:01:41 2021
1.7 billion people appear to be financially excluded. Due to the relevance of the problem, special purpose monies known as Complementary Currencies (CC) seem to be a potential solution. This doctoral project inquiries into the organising of money and its performative effects. It does so by following the communities designing CC and engineering their markets.