Computational Model Library
About the CoMSES Model Library more info
---
CoMSES Net maintains cyberinfrastructure to foster FAIR data principles for access to and (re)use of computational models. Model authors can publish their model code in the Computational Model Library with documentation, metadata, and data dependencies and support these FAIR data principles as well as best practices for software citation. Model authors can also request that their model code be peer reviewed to receive a DOI. All users of models published in the library must cite model authors when they use and benefit from their code.
Please check out our model archive tutorial or contact us if you have any questions or concerns about archiving your model.
CoMSES Net also maintains a curated database of over 7500 publications of agent-based and individual based models with additional metadata on availability of code and bibliometric information on the landscape of ABM/IBM publications that we welcome you to explore.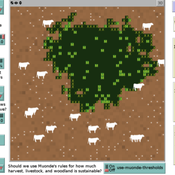 This model has been created with and for the researcher-farmers of the Muonde Trust (http://www.muonde.org/), a registered Zimbabwean non-governmental organization dedicated to fostering indigenous innovation. Model behaviors and parameters (mashandiro nemisiyano nedzimwe model) derive from a combination of literature review and the collected datasets from Muonde's long-term (over 30 years) community-based research. The goals of this model are three-fold (muzvikamu zvitatu):
A) To represent three components of a Zimbabwean agro-pastoral system (crops, woodland grazing area, and livestock) along with their key interactions and feedbacks and some of the human management decisions that may affect these components and their interactions.
B) To assess how climate variation (implemented in several different ways) and human management may affect the sustainability of the system as measured by the continued provisioning of crops, livestock, and woodland grazing area.
C) To provide a discussion tool for the community and local leaders to explore different management strategies for the agro-pastoral system (hwaro/nzira yekudyidzana kwavanhu, zvipfuo nezvirimwa), particularly in the face of climate change.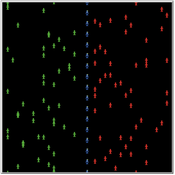 More frequently protests are accompanied by an opposing group performing a counter protest. This phenomenon can increase tension such that police must try to keep the two groups separated. However, what is the best strategy for police? This paper uses a simple agent-based model to determine the best strategy for keeping the two groups separated. The 'thin blue line' varies in density (number of police), width and the keenness of police to approach protesters. Three different groups of protesters are modelled to mimic peaceful, average and volatile protests. In most cases, a few police forming a single-file 'thin blue line' separating the groups is very effective. However, when the protests are more volatile, it is more effective to have many police occupying a wide 'thin blue line', and police being keen to approach protesters. To the authors knowledge, this is the first paper to model protests and counter-protests.
This website uses cookies and Google Analytics to help us track user engagement and improve our site. If you'd like to know more information about what data we collect and why, please see
our data privacy policy
. If you continue to use this site, you consent to our use of cookies.