Computational Model Library
About the CoMSES Model Library more info
---
CoMSES Net maintains cyberinfrastructure to foster FAIR data principles for access to and (re)use of computational models. Model authors can publish their model code in the Computational Model Library with documentation, metadata, and data dependencies and support these FAIR data principles as well as best practices for software citation. Model authors can also request that their model code be peer reviewed to receive a DOI. All users of models published in the library must cite model authors when they use and benefit from their code.
Please check out our model archive tutorial or contact us if you have any questions or concerns about archiving your model.
CoMSES Net also maintains a curated database of over 7500 publications of agent-based and individual based models with additional metadata on availability of code and bibliometric information on the landscape of ABM/IBM publications that we welcome you to explore.
The purpose of this study is to explore the potential impacts of pesticide use and inter-row management of European winegrowers in response to policy designs and climate change. Pesticides considered in this study include insecticides, pheromone dispensers (as an alternative to insecticides), fungicides (both the synthetic type and copper-sulphur based). Inter-row management concerns the arrangement of vegetation in the inter-rows and the type of vegetation.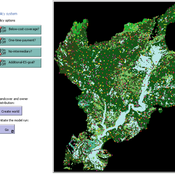 Eulàlia Baulenas
| Published Sun Dec 20 16:44:58 2020 | Last modified Sun Dec 20 18:43:41 2020
The purpose of this spatially-explicit agent-based model is to intervene in the debate about PES policy design, implementation and context. We use the case for a woodland-for-water payment for ecosystem services (PES) and model its implementation in a local area of Catalonia (NE Spain). The model is based on three sub-models. The structural contains four different designs of a PES policy. The social sub-model includes agent-based factors, by having four types of landowner categories managing or not the forests. This sub-model is based on behavioral studies and assumptions about reception and reaction to incentive policies from European-focused studies. The ecological sub-model is based on climate change data for the area. The output are the evolution of the ecological and social goals of the policy under different policy design scenarios. Our focus in Europe surges from the general context of land abandonment that many Mediterranean areas and Eastern countries are experiencing, and the growing interest from policy-makers and practitioners on the implementation of PES schemes to ameliorate this situation.
This simulation model is to simulate the emergence of technological innovation processes from the hypercycles perspective.
This website uses cookies and Google Analytics to help us track user engagement and improve our site. If you'd like to know more information about what data we collect and why, please see
our data privacy policy
. If you continue to use this site, you consent to our use of cookies.