Computational Model Library
About the CoMSES Model Library more info
---
Our mission is to help computational modelers at all levels engage in the establishment and adoption of community standards and good practices for developing and sharing computational models. Model authors can freely publish their model source code in the Computational Model Library alongside narrative documentation, open science metadata, and other emerging open science norms that facilitate software citation, reproducibility, interoperability, and reuse. Model authors can also request peer review of their computational models to receive a DOI.
All users of models published in the library must cite model authors when they use and benefit from their code.
Please check out our model publishing tutorial and contact us if you have any questions or concerns about publishing your model(s) in the Computational Model Library.
We also maintain a curated database of over 7500 publications of agent-based and individual based models with additional detailed metadata on availability of code and bibliometric information on the landscape of ABM/IBM publications that we welcome you to explore.
Displaying 3 of 3 results pedestrian modeling clear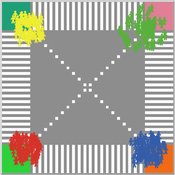 This is a model intended to demonstrate the function of scramble crossings and a more efficient flow of pedestrian traffic with the presence of diagonal crosswalks.
N Gotts
| Published Sunday, August 29, 2021
CINCH1 (Covid-19 INfection Control in Hospitals), is a prototype model of physical distancing for infection control among staff in University College London Hospital during the Covid-19 pandemic, developed at the University of Leeds, School of Geography. It models the movement of collections of agents in simple spaces under conflicting motivations of reaching their destination, maintaining physical distance from each other, and walking together with a companion. The model incorporates aspects of the Capability, Opportunity and Motivation of Behaviour (COM-B) Behaviour Change Framework developed at University College London Centre for Behaviour Change, and is aimed at informing decisions about behavioural interventions in hospital and other workplace settings during this and possible future outbreaks of highly contagious diseases. CINCH1 was developed as part of the SAFER (SARS-CoV-2 Acquisition in Frontline Health Care Workers – Evaluation to Inform Response) project
(https://www.ucl.ac.uk/behaviour-change/research/safer-sars-cov-2-acquisition-frontline-health-care-workers-evaluation-inform-response), funded by the UK Medical Research Council. It is written in Python 3.8, and built upon Mesa version 0.8.7 (copyright 2020 Project Mesa Team).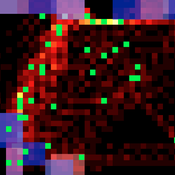 The purpose of this model is to enhance a basic ABM through a simple set of rules identified using the activity-driven models in order to produce more realistic patterns of pedestrian movement.
This website uses cookies and Google Analytics to help us track user engagement and improve our site. If you'd like to know more information about what data we collect and why, please see
our data privacy policy
. If you continue to use this site, you consent to our use of cookies.