Computational Model Library
About the CoMSES Model Library more info
---
CoMSES Net maintains cyberinfrastructure to foster FAIR data principles for access to and (re)use of computational models. Model authors can publish their model code in the Computational Model Library with documentation, metadata, and data dependencies and support these FAIR data principles as well as best practices for software citation. Model authors can also request that their model code be peer reviewed to receive a DOI. All users of models published in the library must cite model authors when they use and benefit from their code.
Please check out our model archive tutorial or contact us if you have any questions or concerns about archiving your model.
CoMSES Net also maintains a curated database of over 7500 publications of agent-based and individual based models with additional metadata on availability of code and bibliometric information on the landscape of ABM/IBM publications that we welcome you to explore.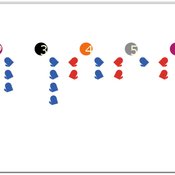 Andrew Collins
| Published Mon Nov 23 15:55:48 2020 | Last modified Wed Jun 22 18:13:58 2022
The purpose of the model is to collect information on human decision-making in the context of coalition formation games. The model uses a human-in-the-loop approach, and a single human is involved in each trial. All other agents are controlled by the ABMSCORE algorithm (Vernon-Bido and Collins 2020), which is an extension of the algorithm created by Collins and Frydenlund (2018). The glove game, a standard cooperative game, is used as the model scenario.
The intent of the game is to collection information on the human players behavior and how that compares to the computerized agents behavior. The final coalition structure of the game is compared to an ideal output (the core of the games).
Afsaneh Fatemi
| Published Wed Mar 16 06:07:47 2011 | Last modified Sat Apr 27 20:18:19 2013
Its a multi agent simulation environment, provided using JADE/Java. It gets the number of agents and tasks, then divides the physical environment to some segments, and then runs a greedy capability-based coalition formation and task allocation algorithm to assign tasks to groups of agents and complete the tasks.
Luis Nardin
| Published Wed Aug 31 00:21:12 2011 | Last modified Sat Apr 27 20:18:23 2013
This model is an agent-based simulation that consists of agents who play the spatial prisioner's dilemma game with coalition formation. The coalition dynamics are mainly influenced by how much the agents trust their leaders. The main objective is provide a simulation model to enable the analysis of the impacts that the use of trust may cause in coalition formation.
This website uses cookies and Google Analytics to help us track user engagement and improve our site. If you'd like to know more information about what data we collect and why, please see
our data privacy policy
. If you continue to use this site, you consent to our use of cookies.