Computational Model Library
About the CoMSES Model Library more info
---
CoMSES Net maintains cyberinfrastructure to foster FAIR data principles for access to and (re)use of computational models. Model authors can publish their model code in the Computational Model Library with documentation, metadata, and data dependencies and support these FAIR data principles as well as best practices for software citation. Model authors can also request that their model code be peer reviewed to receive a DOI. All users of models published in the library must cite model authors when they use and benefit from their code.
Please check out our model archive tutorial or contact us if you have any questions or concerns about archiving your model.
CoMSES Net also maintains a curated database of over 7500 publications of agent-based and individual based models with additional metadata on availability of code and bibliometric information on the landscape of ABM/IBM publications that we welcome you to explore.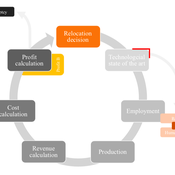 The agent-based perspective allows insights on how behaviour of firms, guided by simple economic rules on the micro-level, is dynamically influenced by a complex environment in regard to the assumed relocation, decision-making hypotheses. Testing various variables sensitive to initial conditions, increased environmental regulations targeting global trade and upward shifting wage levels in formerly offshore production locations have shown to be driving and inhibiting mechanisms of this socio-technical system. The dynamic demonstrates a shift from predominantly cited economic reasoning for relocation strategies towards sustainability aspects, pressingly changing these realities on an environmental and social dimension. The popular debate is driven by increased environmental awareness and the proclaimed fear of robots killing jobs. In view of reshoring shaping the political agenda, interest in the phenomenon has recently been fuelled by the rise of populism and protectionism.
This website uses cookies and Google Analytics to help us track user engagement and improve our site. If you'd like to know more information about what data we collect and why, please see
our data privacy policy
. If you continue to use this site, you consent to our use of cookies.