Computational Model Library
About the CoMSES Model Library more info
---
CoMSES Net maintains cyberinfrastructure to foster FAIR data principles for access to and (re)use of computational models. Model authors can publish their model code in the Computational Model Library with documentation, metadata, and data dependencies and support these FAIR data principles as well as best practices for software citation. Model authors can also request that their model code be peer reviewed to receive a DOI. All users of models published in the library must cite model authors when they use and benefit from their code.
Please check out our model archive tutorial or contact us if you have any questions or concerns about archiving your model.
CoMSES Net also maintains a curated database of over 7500 publications of agent-based and individual based models with additional metadata on availability of code and bibliometric information on the landscape of ABM/IBM publications that we welcome you to explore.
LUXE is a land-use change model featuring different levels of land market implementation. It integrates utility measures, budget constraints, competitive bidding, and market interactions to model land-use change in exurban environment.
Digital-Twin model of Sejong City – Source model code & data
We only shared model codes, excluding private data and simulation engine codes.
The followings are brief reasons for the items we cannot share.
Residence address data
…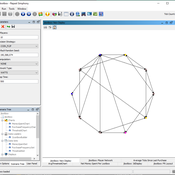 This model aims to explore how gambling-like behavior can emerge in loot box spending within gaming communities. A loot box is a purchasable mystery box that randomly awards the player a series of in-game items. Since the contents of the box are largely up to chance, many players can fall into a compulsion loop of purchasing, as the fear of missing out and belief in the gambler's fallacy allow one to rationalize repeated purchases, especially when one compares their own luck to others. To simulate this behavior, this model generates players in different network structures to observe how factors such as network connectivity, a player's internal decision making strategy, or even common manipulations games use these days may influence a player's transactions.
This website uses cookies and Google Analytics to help us track user engagement and improve our site. If you'd like to know more information about what data we collect and why, please see
our data privacy policy
. If you continue to use this site, you consent to our use of cookies.