Computational Model Library
An agent-based model to simulate meat consumption behaviour of consumers in Britain (version 1.0.0)
The current rate of production and consumption of meat poses a problem both to peoples' health and to the environment. This work aims to develop a simulation of peoples' meat consumption behaviour in Britain using agent-based modelling. The agents represent individual consumers. The key variables that characterise agents include sex, age, monthly income, perception of the living cost, and concerns about the impact of meat on the environment, health, and animal welfare. A process of peer influence is modelled with respect to the agents' concerns. Influence spreads across two eating networks (i.e. co-workers and household members) depending on the time of day, day of the week, and agents' employment status. Data from a representative sample of British consumers is used to empirically ground the model. Different experiments are run simulating interventions of application of social marketing campaigns and a rise in price of meat. The main outcome is the average weekly consumption of meat per consumer. A secondary outcome is the likelihood of eating meat.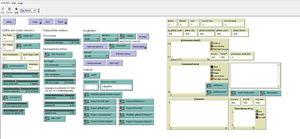 Release Notes
work currently under review
| Version | Submitter | First published | Last modified | Status |
| --- | --- | --- | --- | --- |
| 1.0.0 | Andrea Scalco | Fri Oct 18 13:00:21 2019 | Fri Oct 18 13:00:21 2019 | Published |
---
Discourse comments are disabled.
(this page is private)
This website uses cookies and Google Analytics to help us track user engagement and improve our site. If you'd like to know more information about what data we collect and why, please see
our data privacy policy
. If you continue to use this site, you consent to our use of cookies.