Electrical and Computer Engineer (NTU, Athens), M.Sc. and Ph.D. on Artificial Intelligence (Univ. Paris VI, France). Formerly senior researcher in the Institute of Communication and Computer Systems (NTU, Athens). I have taught a variety of courses on intelligent, complex and biological systems and cognitive science. I have participated in numerous national and european R&D projects and I have authored about a hundred articles in journals, books and conference proceedings, at least half of them as a single author. I am frequent reviewer for journals, conferences and research grants. My research interests lie on the intersection of biological, complex and cognitive systems and applications.
Research Interests
Area: Complex Biological, Social and Sociotechnical Systems
Specific focus: Origins of intelligent behavior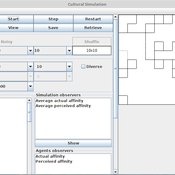 The objective of the present system is to allow experimentation with the models of cultural behavior presented in (JASSS Submission 2013).