Computational Model Library
About the CoMSES Model Library more info
---
Our mission is to help computational modelers at all levels engage in the establishment and adoption of community standards and good practices for developing and sharing computational models. Model authors can freely publish their model source code in the Computational Model Library alongside narrative documentation, open science metadata, and other emerging norms that facilitate software citation, archival, interoperability, and reuse. Model authors can also request that their model code be peer reviewed to receive a DOI.
All users of models published in the library must cite model authors when they use and benefit from their code.
Please check out our model archive tutorial or contact us if you have any questions or concerns about publishing your model(s) in the Computational Model Library.
We also maintain a curated database of over 7500 publications of agent-based and individual based models with additional detailed metadata on availability of code and bibliometric information on the landscape of ABM/IBM publications that we welcome you to explore.
Displaying 2 of 2 results ultimatum game clear
rmercuur
| Published Wednesday, June 12, 2019
This model accompanies a paper looking at the role and limits of values and norms for modeling realistic social agents. Based on literature we synthesize a theory on norms and a theory that combines both values and norms. In contrast to previous work, these theories are checked against data on human behavior obtained from a psychological experiment on dividing money: the ultimatum game. We found that agents that act according to a theory that combines both values and norms, produce behavior quite similar to that of humans. Furthermore, we found that this theory is more realistic than theories solely concerned with norms or theories solely concerned with values. However, to explain the amount of money people accept in this ultimatum game we will eventually need an even more realistic theory. We propose that a theory that explains when people exactly choose to use norms instead of values could provide this realism.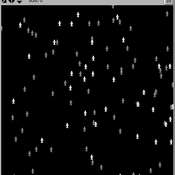 Andrea Scalco
| Published Tuesday, February 24, 2015 | Last modified Monday, March 09, 2015
The simulation generates two kinds of agents, whose proposals are generated accordingly to their selfish or selfless behaviour. Then, agents compete in order to increase their portfolio playing the ultimatum game with a random-stranger matching.
This website uses cookies and Google Analytics to help us track user engagement and improve our site. If you'd like to know more information about what data we collect and why, please see
our data privacy policy
. If you continue to use this site, you consent to our use of cookies.