Computational Model Library
About the CoMSES Model Library more info
---
CoMSES Net maintains cyberinfrastructure to foster FAIR data principles for access to and (re)use of computational models. Model authors can publish their model code in the Computational Model Library with documentation, metadata, and data dependencies and support these FAIR data principles as well as best practices for software citation. Model authors can also request that their model code be peer reviewed to receive a DOI. All users of models published in the library must cite model authors when they use and benefit from their code.
Please check out our model archive tutorial or contact us if you have any questions or concerns about archiving your model.
CoMSES Net also maintains a curated database of over 7500 publications of agent-based and individual based models with additional metadata on availability of code and bibliometric information on the landscape of ABM/IBM publications that we welcome you to explore.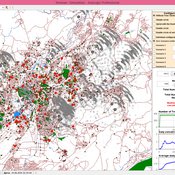 Urban greenery such as vertical greenery systems (VGS) can effectively absorb air pollutants emitted by different agents, such as vehicles and manufacturing enterprises. The main challenge is how to protect socially important objects, such as kindergartens, from the influence if air pollution with the minimum of expenditure. There is proposed the hybrid individual- and particle-based model of interactions between vertical greenery systems and air pollutants to identify optimal locations of tree clusters and high-rise buildings where horizontal greenery systems and VGS should be implemented, respectively. The model is implemented in the AnyLogic simulation tool.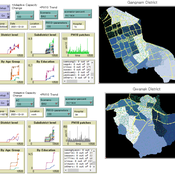 This model aims to understand the cumulative effects on the population's vulnerability as represented by exposure to PM10 (particulate matter with diameter less than 10 micrometres) by different age and educational groups in two Seoul districts, Gangnam and Gwanak. Using this model, readers can explore individual's daily commuting routine, and its health loss when the PM10 concentration of the current patch breaches the national limit of 100µg/m3.
This website uses cookies and Google Analytics to help us track user engagement and improve our site. If you'd like to know more information about what data we collect and why, please see
our data privacy policy
. If you continue to use this site, you consent to our use of cookies.