Computational Model Library
About the CoMSES Model Library more info
---
Our mission is to help computational modelers at all levels engage in the establishment and adoption of community standards and good practices for developing and sharing computational models. Model authors can freely publish their model source code in the Computational Model Library alongside narrative documentation, open science metadata, and other emerging open science norms that facilitate software citation, reproducibility, interoperability, and reuse. Model authors can also request peer review of their computational models to receive a DOI.
All users of models published in the library must cite model authors when they use and benefit from their code.
Please check out our model publishing tutorial and contact us if you have any questions or concerns about publishing your model(s) in the Computational Model Library.
We also maintain a curated database of over 7500 publications of agent-based and individual based models with additional detailed metadata on availability of code and bibliometric information on the landscape of ABM/IBM publications that we welcome you to explore.
Displaying 1 of 1 results Phytophthora infestans clear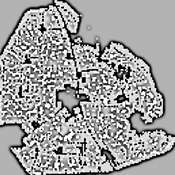 The purpose of the model is to simulate the spatial dynamics of potato late blight to analyse whether resistant varieties can be used effectively for sustainable disease control. The model represents an agricultural landscape with potato fields and data of a Dutch agricultural region is used as input for the model. We simulated potato production, disease spread and pathogen evolution during the growing season (April to September) for 36 years. Since late blight development and crop growth is weather dependent, measured weather data is used as model input. A susceptible and late blight resistant potato variety are distinguished. The resistant variety has a potentially lower yield but cannot get infected with the disease. However, during the growing season virulent spores can emerge as a result of mutations during spore production. This new virulent strain is able to infect the resistant fields, resulting in resistance breakdown. The model shows how disease severity, resistance durability and potato yield are affected by the fraction of fields across a landscape with a disease-resistant potato variety.
This website uses cookies and Google Analytics to help us track user engagement and improve our site. If you'd like to know more information about what data we collect and why, please see
our data privacy policy
. If you continue to use this site, you consent to our use of cookies.