Computational Model Library
The model is an agent-based artificial stock market where investors connect in a dynamic network. The network is dynamic in the sense that the investors, at specified intervals, decide whether to keep their current adviser (those investors they receive trading advise from). The investors also gain information from a private source and share public information about the risky asset. Investors have different tendencies to follow the different information sources, consider differing amounts of history, and have different thresholds for investing.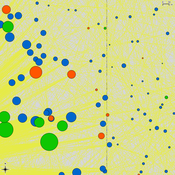 Sascha Holzhauer
| Published Wed Aug 22 11:28:48 2012 | Last modified Tue Jun 18 10:50:05 2013
The model uses opinion dynamics to test a simple and ecient but empirically based approach for generating social networks in spatial agent-based models which explicitly takes into account restrictions and opportunities imposed by effects of baseline homophily and considers the probability of links that depends on geographical distance between potential partners.
Reza Shamsaee
| Published Mon May 14 13:07:12 2012 | Last modified Sat Apr 27 20:18:53 2013
WeDiG Sim- Weighted Directed Graph Simulator - is an open source application that serves to simulate complex systems. WeDiG Sim reflects the behaviors of those complex systems that put stress on scale-free, weightedness, and directedness. It has been implemented based on "WeDiG model" that is newly presented in this domain. The WeDiG model can be seen as a generalized version of "Barabási-Albert (BA) model". WeDiG not only deals with weighed directed systems, but also it can handle the […]
This website uses cookies and Google Analytics to help us track user engagement and improve our site. If you'd like to know more information about what data we collect and why, please see
our data privacy policy
. If you continue to use this site, you consent to our use of cookies.