Computational Model Library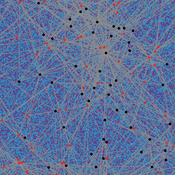 This NetLogo model illustrates the cultural evolution of pro-environmental behaviour patterns. It illustrates how collective behaviour patterns evolve from interactions between agents and agents (in a social network) as well as agents and the affordances (action opportunities provided by the environment) within a niche. More specifically, the cultural evolution of behaviour patterns is understood in this model as a product of:
The landscape of affordances provided by the material environment,
Individual learning and habituation,
Social learning and network structure,
Personal states (such as habits and attitudes), and
…
This model is part of an article that discusses the adoption of a complexity theory approach to study the dynamics of language contact within multilingual communities. The model simulates the dynamics of communication within a community where a minority and a majority group coexist. The individual choice of language for communication is based on a number of simple rules derived from a review of the main literature on the topic of language contact. These rules are then combined with different variables, such as the rate of exogamy of the minority group and the presence of relevant education policies, to estimate the trends of assimilation of the minority group into the majority one. The model is validated using actually observed data from the case of Romansh speakers in the canton of Grisons, Switzerland.
This website uses cookies and Google Analytics to help us track user engagement and improve our site. If you'd like to know more information about what data we collect and why, please see
our data privacy policy
. If you continue to use this site, you consent to our use of cookies.