Computational Model Library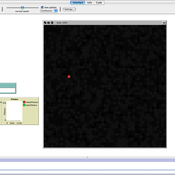 This is a conceptual model of underlying forces creating industrial clusters. There are two contradictory forces - attraction and repulsion. Firms within the same Industry are attracted to each other and on the other hand, firms with the same Activity are repulsed from each other. In each round firm with the lowest fitness is selected to change its profile of Industries and Activities. Based on these simple rules interesting patterns emerge.
The model is an agent-based artificial stock market where investors connect in a dynamic network. The network is dynamic in the sense that the investors, at specified intervals, decide whether to keep their current adviser (those investors they receive trading advise from). The investors also gain information from a private source and share public information about the risky asset. Investors have different tendencies to follow the different information sources, consider differing amounts of history, and have different thresholds for investing.
This model combines decision making models of individual farmers with a model of the spatial spread between farms of blue tongue virus.
This website uses cookies and Google Analytics to help us track user engagement and improve our site. If you'd like to know more information about what data we collect and why, please see
our data privacy policy
. If you continue to use this site, you consent to our use of cookies.