COVID-19 US Masks (version 1.0.0)
This model is an abstract simulation of the COVID-19 virus in the United States population. It demonstrates how different masks of different types affect the progress of the virus.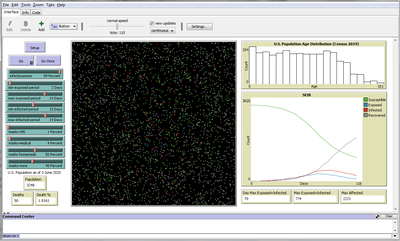 Release Notes
Initial release. A conference paper discussing the use of this model will be released at the 2020 International Conference on Social Computing, Behavioral-Cultural Modeling & Prediction and Behavior Representation in Modeling and Simulation (SPB-BRiMS) in October 2020.